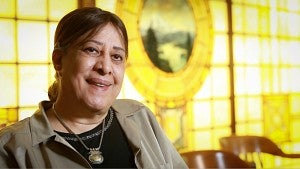 2+X Global Health Program

The 2+X Global Health Program provides opportunities for students from Mohammad Al Mana College of Health Sciences (MACHS) to earn a competitive scholarship to complete their bachelor's degrees at the University of Oregon.
The scholarship is generously funded by Dr. Aisha Almana, leading Saudi feminist, University of Oregon alum, and founder of Mohammad Al Mana College of Health Sciences. Together, our goal is to support Dr. Aisha's vision to provide transformative experiences for students who will be inspired and empowered through their education to work in public health fields. Students in the program will complete their first two years at MACHS in a curriculum vetted by faculty from the University of Oregon before completing their studies at the University of Oregon.
Eligibility
Students who have completed two years of study at the Mohammad Al Mana College of Health Sciences are eligible.
Minimum Requirements
Minimum TOEFL score of 88
GPA: 3.0
Interest in Global Health
Application Instructions
To complete your application, please submit each of the following:
Submit the University of Oregon International Application for Undergraduate Admission.
Submit official transcripts for all secondary or high schools, colleges, and universities you have attended. Official copies are issued directly by your school, college, or university in a sealed envelope and must bear the official stamp or seal of the institution as well as the signature of the appropriate official. 
Submit official exam results from the TOEFL/IELTS test. The UO's institutional TOEFL code is 4846.
Submit a personal statement (no more than 500 words). In this statement, please reflect on how you think this experience will follow in the footsteps of Dr. Aisha to further your education, empower women, and promote global health.
Deadlines
April 1 for Fall Enrollment 
July 1 for Winter Enrollment
Where Do I Send My Documents?
UO-MACHS 2+X Program
Global Studies Institute
110 Gerlinger Hall
1246 University of Oregon 
Eugene, OR 97403
U.S.A.
Questions? Please contact Elly Vandegrift at ellyvan@uoregon.edu for program or admissions questions.