The mission of Global STEM at the University of Oregon is to support STEM education and innovation at universities around the world in order to change the lives of faculty and students.
Global STEM Education Programs are customized for STEM educators, students, and postdoctoral fellows to improve teaching and learning. Programs include topics in active learning, course design, equity and inclusivity, authentic assessments, practical skills development, project-based learning, mentorship, curriculum reform, and science communication. Program lengths vary to suit your needs, from one-hour online workshops to multi-year partnerships.
Teaching Program
Designed for STEM faculty, post-docs, or graduate students to practice cutting edge teaching techniques, which they can immediately implement in classrooms. We offer customized programs varying in length from one-day workshops to week-long targeted trainings.
Curricular Reform
Designed to support departments in identifying ways that curriculum can be modified to improve student pathways through STEM degrees. With the faculty, we will help develop a needs analysis and make recommendations for change. We will also provide guidance through the ongoing process of curriculum reform to best support learning for 21st Century STEM students.
Upcoming Events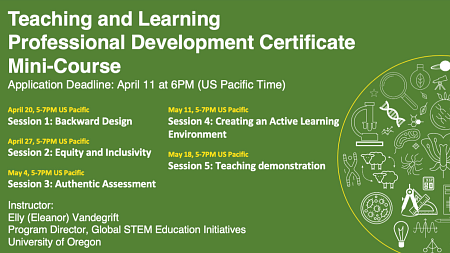 Teaching and Learning Professional Development Certificate Mini-Course
Application Deadline: April 11 at 6pm (US Pacific Time)
5 sessions, April 20 - May 18
This course is available to all faculty across disciplines seeking to strengthen their teaching techniques. In this professional development certificate mini-course, faculty will experience teaching practices designed to improve student learning.
Contact Us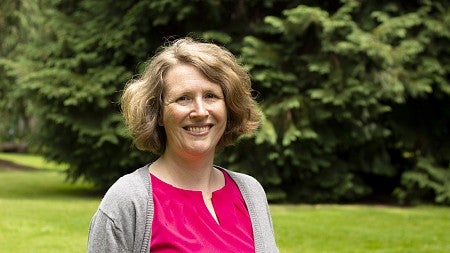 Global STEM Program Director & Senior Instructor
Elly Vandegrift
Request a Consultation: ellyvan@uoregon.edu
---
Global Scholars Professional Development Program
The Global Scholars Professional Development Program at the University of Oregon supports leaders and educators from international institutions by providing professional development opportunities that enhance pedagogical, curricular, cross-institutional, and cross-cultural engagement across disciplines. In addition to developing strategic partnerships, Global Scholars offers certificates to participants who complete customizable programs designed to advance their career goals.
Who Can Participate?
Leaders, administrators, professors, and researchers from non-US academic institutions who are interested in professional development opportunities in the US hosted by the University of Oregon.
Higher Education or K-12
J-1 Visiting Scholars and B-1 Business Visa holders
Academic Institutions and/or Departments
What is the Format?
In-person trainings on the UO campus
Online/UO campus hybrid trainings
Hybrid trainings and virtual sessions
Home institution on-site trainings
Varying lengths: 1 hour, 2 weeks, 3 months, 1 year, etc.
What Types of Activities Are Offered?
Professional Development opportunities are customizable to match your goals
Common program types:
Sabbatical support, leadership training, pedagogical and curricular improvement, cultural immersion, institutional strategic partnerships
Common activities include:
Lectures, workshops, discussions, school trips, business visits, cultural activities
Explore Sample Programs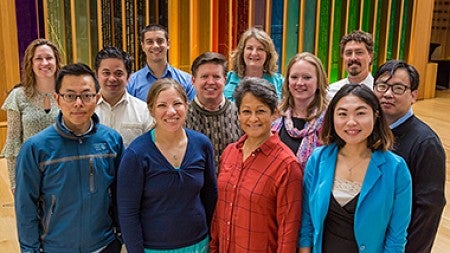 International Student Services Management 中文
A two-week program focused on introducing best practices on how American universities attract, retain and serve international students and the services provided to support their academic, social, cultural and emotional success.